Antioxidants are the best way to fight off ageing. Quinoa is not only full of antioxidants, but also packed full of protein, fibre, iron and magnesium. This salad can be eaten as a side dish, but it does make a great main for lunch or afternoon snack. This dish is very versatile so don't hesitate to change up the fruits and veggies with what is in season or maybe just what you prefer.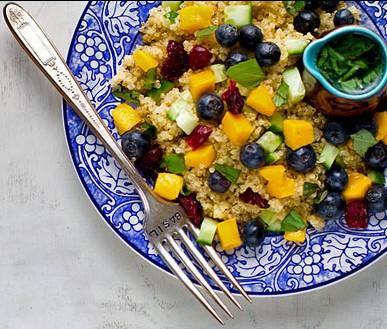 For the Quinoa
1 cup quinoa
2 cup water
1 tablespoon Extra Virgin Olive Oil
For the fruits and veggies
1 cup fresh blueberries
1/2 cup cubed carrots
1/2 cup cubed ripe mangoes (if available)
1 cup cubed cucumbers
1/4 cup dried cranberries
For the lemon basil dressing
3 tablespoons Extra Virgin Olive Oil
4 tablespoons lemon juice
1/2 teaspoon lemon zest
15 Basil leaves, chopped finely
Salt and pepper to taste
Directions
Rinse quinoa and place in a pot with olive oil. Lightly toast quinoa to take away bitterness (about 3-5 minutes). Add water to pot and bring to a boil. Then reduce heat, and simmer covered for about 15 minutes or till the quinoa is cooked, there is no need to stir quinoa while cooking. Remove the lid, and fluff the quinoa with a fork. Let it cool to room temperature.
While the quinoa is cooking, cut up veggies and fruits to a desired size. Place them all together in a bowl in the fridge.
Whisk together all the dressing ingredients, except the chopped basil. Refrigerate till you are ready to serve. Chop and add the basil to the dressing just before serving to ensure that basil does not go black.
Add half the dressing to the quinoa and mix gently. Then add the fruit and veggies and again mix gently. Serve immediately with the rest of the dressing on the side just in case it needs a bit more.
Keep left overs in a air tight container for 1 or 2 days. It is best when eaten fresh.
Adapted from a recipe on Veggie Belly